LifeScape is building bright futures in housing for adults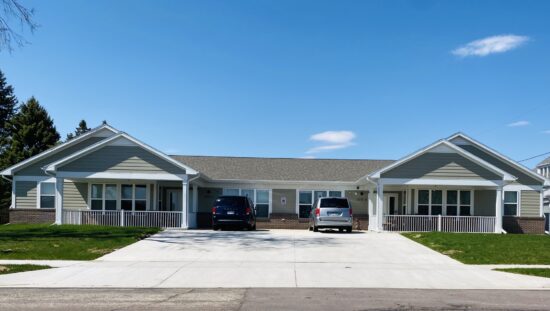 Five years, five new homes
With one new home finished and another in the works, LifeScape is well on its way to meeting a five-year goal of providing high-quality affordable housing to adults with disabilities in Sioux Falls.
The Continuum Home, a duplex located near LifeScape's Adult Services location, opened to eight residents in February 2021. It is the first of its kind in South Dakota—designed in cooperation with the Department of Human Services. Its focus is to help prepare young adults who are moving from children's services with high supports to more independent adult settings. Kari Green of Rapid City is thrilled that her 21-year-old son Christian is able to live at Continuum Home. "This home I believe will help him gain the confidence that he needs to continue to progress throughout his adult years," says Kari.
The South Dakota Housing Development Authority provided $902,000 in funding for the Continuum Home. In addition, the LifeScape Foundation—through donor support—provided $171,000 toward the project and purchased the land.
The Continuum program provides dedicated behavior support and training on community skills and independence. Its day program teaches vocational and employment skills. Four residents are enrolled in the transitional program, and four are currently residents who moved from other LifeScape supported adult housing locations. One is Amy Ernster of Salem. Her mom, Kim, says she just seems happier. "She was in a basement apartment before," says Kim. "She loves to look out the window now, and she and her friends like to sit outside. They have a water table—she loves water--and she has a three-wheeled bike she rides almost every day. She likes helping with meal prep and loading and unloading the dishwasher, and she's getting out more post-COVID. Things are better and better for her at Continuum."
The second home is under construction in the Froehlich Addition in north Sioux Falls. The 5,475 square foot duplex—with the same design at the Continuum Home—is set to be ready for its eight residents by the end of 2021. They are all moving from rental properties managed by LifeScape and have named their new place Linden Home.
The plan is to build a new house every year for the next five years in various parts of the city. The goal is always for the homes to blend into their neighborhoods. Besides the cost and availability of building materials, the biggest obstacle now is finding land. The lots need to be about 15,000 square feet—basically the size of a double lot—to accommodate an accessible, one-story home. There is also an initiative to renovate homes already in use. The overall cost will be about $5 million.
"As Sioux Falls continues to grow and housing prices rise, we're helping ensure that people with disabilities have safe, comfortable homes," says LifeScape Foundation President Jessica Wells. "Most have very limited incomes, depending on Medicaid or Social Security to survive. This initiative allows LifeScape to provide and maintain quality homes that will last generations."