Ericka's Story - Why we Rock & Roll at Mall Walk!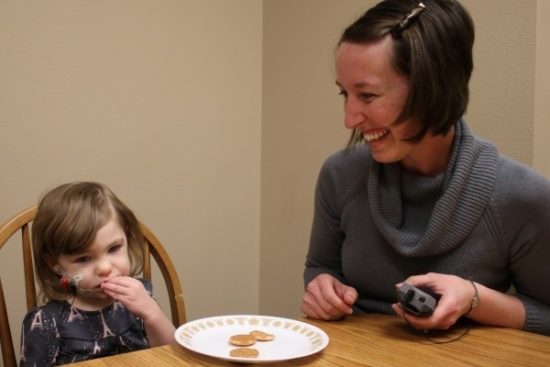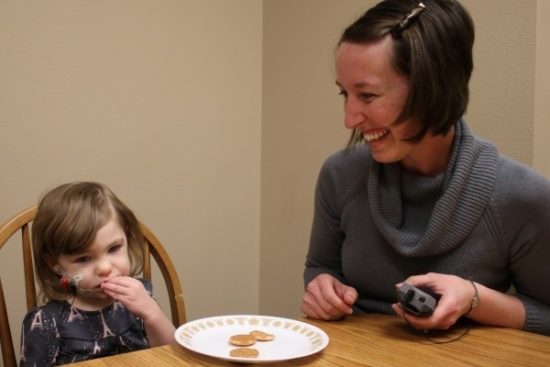 Two-year-old Ericka Williams had a stroke at birth, and began occupational therapy and speech therapy at LifeScape at 14 months. The stroke affected her ability to move food in her mouth. "She would pocket food in her right cheek," says her mom, Laura. "There was very little she would or could eat, and it took an hour-and-a-half to feed her."
To help her learn to eat better, speech-language pathologist Caitlin Abbas (shown above with Ericka) used neuromuscular electrical stimulation (NMES), which stimulates muscles with very mild electric impulses. "I used a placement on her right cheek to help stimulate and strengthen the muscles," says Caitlin. "This helped her cheek muscles push the food back into the center of her mouth so she could swallow and not let it sit in her mouth. After just three months, Ericka was much better at clearing her mouth after each bite. After six months, Ericka was discharged from feeding therapy altogether." Laura says mealtimes now take 15-20 minutes, and Ericka is eating a much more balanced diet. Her speech therapy now focuses on communication skills.
The stroke also left Ericka with very limited use of her right arm. "When she attempted to reach for or grasp an item, her hand would become fisted," says occupational therapist Jessyca Conaway. "Children of that age generally use both hands for tasks such as holding a cup and eating, so it definitely affected her independence. The weakness in the arm also impacted her ability to crawl as an infant."
Ericka gets occupational therapy twice a week with Jessyca, with the focus on constraint-induced movement therapy. This involves blocking her left arm from use, so her right arm can gain skills and strength. She also attended LifeScape's Helping Hands Camp this past summer—two weeks of daily play-based therapy with other children.
"She made excellent progress," says Jessyca. "Ericka is now using her right arm and her hand for many grasp and release tasks without assistance. She's also gaining fine motor control with her fingers, and is learning basic self-care skills like any other toddler, including dressing, grooming, handling a cup, and using a spoon.
With another baby due in February, Laura and her husband John are relieved that Ericka has conquered her eating challenges, and that she is on her way to being as independent as any other child.
Funds raised help provide the equipment necessary for success stories like Ericka every day. MallWalk 2017 has a fundraising goal of $100,000 to purchase Wish List items. Register today for MallWalk 2017 as an individual or as a team --or make a contribution to someone else's fundraising effort--at www.crowdrise.com/mallwalk. This is a new registration site this year, so if you have ANY questions, please call us at 605-444-9800! Thank you for being a part of these stories.