Empowering Adults through Employment Success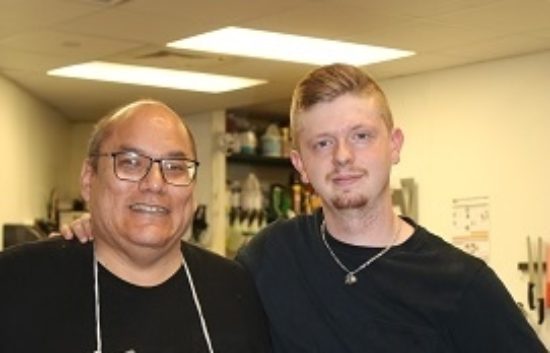 On May 22, we had the bittersweet experience of having nine students graduate from the LifeScape Specialty School—we'll miss them, but we're so proud! For some, the next step may be entering the workforce. With LifeScape's commitment to supporting people throughout their lives, we're there to help with this important next step through our Supported Employment program.

Supported employment helps any adult in the community with a disability who wants to work. One of our four Employment specialists starts by identifying job interests and strengths while training on general workplace skills. They work with businesses and organizations to identify job opportunities and match potential workers with the job. Coaching is provided onsite to ensure success and fades out of the picture when the employee is ready. Employment specialists are always available to come back for refresher coaching, a feature employers greatly appreciate.
LifeScape supports more than 90 people working in the Sioux Falls area and has partnerships with over 60 businesses.
One of those workers is Curtis Hilla, who has worked at a Wendy's restaurant in Sioux Falls since May 2015. He goes to work early in the morning, helping prepare for the busy day ahead. Curtis keeps the outside facility and front-end area clean for patrons by vacuuming, washing windows, wiping tables, and taking out the garbage. He likes earning a living and enjoys the customers and his coworkers, especially his manager, Amy. "I have the greatest boss in the world," says Curtis.
Another is Stuart Hawkwing, who had a strong desire to get back into the workforce after being retired for many years. He wanted a dishwashing position in downtown Sioux Falls, so he went with his employment specialist to the restaurant Ode to Food & Drinks to fill out an application. Ode gave him the opportunity to try out the job for a day; he did so well that they immediately offered him a position. That was four years ago, and Stuart remains a dependable, valued member of their staff. "I like everyone I work with," says Stuart. "It's a good job and I like what I do. It pays me really well so I have enough money to get by." Stuart has also developed friendships with his co-workers; they go to movies, shopping, or to events outside of work. Ode owner Michael Flannery takes him to church. For Stuart, ODE is more than just a place where he can earn an income and excel at his job, it's a community that supports him. It's the ideal situation we hope for—that natural community supports will grow out of the job relationship.
Customized Employment
LifeScape is now developing a new approach called Customized Employment, with more in-depth efforts to personalize the employment relationship between a job seeker and an employer to meet the needs of both. It's part of the goal for people with disabilities to express choice throughout their lives, including employment. Samantha Griebel is piloting that program with LifeScape. Not only will this give Sam a job that makes full use of her quick wit and excellent writing skills, Customized Employment has many advantages for employers. Benefits include tax incentives, reliable and dependable employees, lower turnover, and enhanced diversity. "It's an awesome opportunity," says Sam. "I am excited to be working on finding a job that is specific to my abilities and educational background."
LifeScape's employment specialists are always looking for more businesses to partner with, and local employers give high marks to the program. "LifeScape prepares people well for the job," says Nic Hoch, Assistant Director of Store Operations, South Minnesota Avenue Hy-Vee. "The value of the employment specialists is huge."
For more information about LifeScape's Supported Employment program, call 605-444-9974 or email patrick.derrick@LifeScapeSD.org.
LifeScape supports more than 90 people working in the Sioux Falls area and has partnerships with over 60 businesses.