April 15, 2020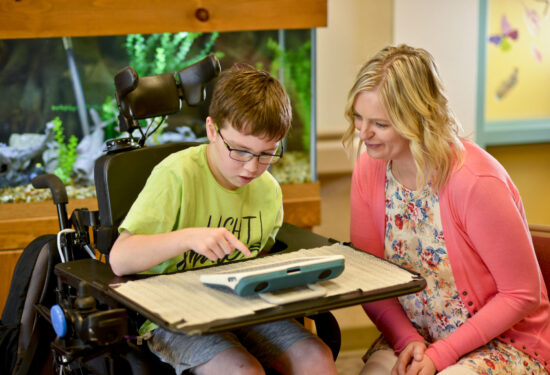 In case you missed Empowered by LifeScape presented by Sammons Financial on KSFY, KDLT and the CW, we are sharing with you once again the inspiring stories of the children and adults supported by LifeScape. Scroll to the bottom of the page to watch the full 30-minute episode now.

Wyden Klusmann
Wyden Klusmann was just five years old when he moved to the United States from Haiti on a medical visa. Doctors attempted to repair his club foot, but in the end were forced to amputate it below the knee.
Wyden is now 11 years old, and with the help of his prosthetic leg, has been training at 605 Ninja Academy for over a year.
"I might not have a leg, but that doesn't mean I have a disability," said Wyden. "I still have a prosthetic, so I can still do what people with normal legs can still do."

Thomas Ramsey
Two-and-a-half year old Thomas Ramsey has been breaking down barriers his whole life.
"Thomas was born prematurely at 24 weeks," said Rebecca Ramsey, Thomas's mother. "So he had a few hiccups in the road, which caused some of his disabilities in mobility."
The newly adopted Go Baby Go program modifies toy cars for children with mobility challenges. For kids like Thomas, who can't ride a tricycle and is too young for a powered wheelchair, Go Baby Go is the perfect program.
"We're able to make structural modifications, to allow the child to sit safely in the car," said LifeScape Program Development Manager, Nicole Koskovich, "as well as electrical modifications where they can use an EasySwitch the pedals by hand."
Kids are encouraged to drive their cars around the house, in the yard, and in their community.
Erica Turnbow-Meyer
Erica started attending LifeScape when she was 12 years old and has recently achieved one of her biggest goals, graduating.
Each LifeScape student had their own table set up at the graduation ceremony to show off their accomplishments and hard work throughout the years. Erica's table included dozens of pictures and her Special Olympics gold medals.
"She's come out of her shell," said her mother, Laura. "Because she was so embarrassed and shy, and now I just see a total blossom."
"Her mom and I are both very proud," said Jon Meyer. "It's kind of an emotional day, but she's our daughter. Who wouldn't be?"
Emmett Kiel
Emmett was rushed to the hospital last March after he started yelling and his body became stiff. It was later revealed that he had suffered from a stroke. Because of the stroke, Emmett had to relearn how to walk, talk, an be independent. Once his doctors confirmed that he was medically stable, he spent more than 55 days at LifeScape, working with three different therapists, twice a day.
"There's a lot of caring, and comfort, and understanding," said Emmett's mother, Crystal. "They know that Emmett's just a kid. We're going to work hard, but we're still going to have fun."
Doctors don't know how much permanent damage he has suffered, as every stroke is different, but his doctors and family and remain optimistic.
"We really don't know for sure what's going to happen," said Emmett's father, Jon. "It can be worrisome, but at the same time it's comforting."
Emmett and his parents recently took a trip to LegoLand to celebrate both is birthday and his recovery progress.
Breck Remus
13-month-old Breck Remus was born at just over three pounds, and has been hospitalized several times since then. Doctors were forced to intubate and sedate her for two months to help fight the respiratory issues she was facing.
Last February, she was diagnosed with Russell-Silver syndrome, a disorder that inhibited her growth.
"Cognitively she's there," said her mother, Ashley. "The physical part and the eating is what is lacking right now."
After many medical professionals told Breck's family that there was nothing they could do, the therapists at LifeScape stepped in. Breck received specialized treatment that improved her health in just two weeks.
LifeScape therapists were able to get Breck eating baby food and soft solids, and gave her speech and occupational therapy for two-and-a-half hours, four to five times per day.
"It really helps us get to know the child," said LifeScape Feeding Therapist, Melissa Carrier-Damon. "They get to trust us, and from there we get to try a variety of strategies, and with those strategies we do a lot of caregiver training."
Breck will continue her weekly sessions at LifeScape for several months.
Larry Hohn
LifeScape empowers adults through different programs and services on a daily basis. One day, Larry had those services taken away unexpectedly. A few organizations came together to make sure he got back to LifeScape.

When Larry's mother passed away two years ago, Robin Berg, Larry's cousin-in-law started caring for him.
"He's 72 years old," Robin said. "And he enjoys life to the fullest."
That became harder for him to do when his van died. Robin and her husband were able to purchase a used one, but the transmission went out on it shortly after. The family needed more than $1,500 to fix the transmission – that's when LifeScape stepped in. After providing $500 to help fix the vehicle, LifeScape reached out to Sioux Falls Fire Rescue who were quick to match the gift.
"It feels good," Robin admitted, " because I didn't want Larry to have to stay at home all day, everyday."
He's been going to LifeScape for 10 years, looking forward to the activities like Bingo, fishing, or even picnics.