Despite pandemic challenges, Ambassadors grant over $107,000 for LifeScape needs!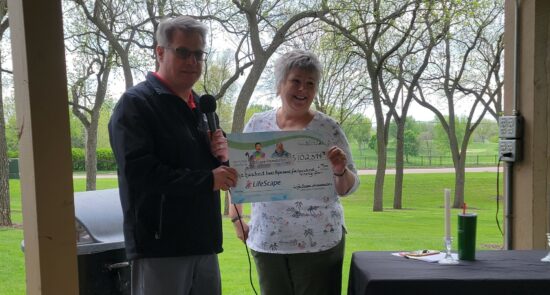 The LifeScape Ambassadors are kicking off another year of support for children and adults who receive services through LifeScape. The group meets for lunch the third Monday of the month, September through May, to learn more about needs and plan activities of advocacy and support.
Their 2020-2021 program year culminated on May 18 when the Ambassadors met to award 45 Wish List requests, either fully or partially, in the amount of $107,858.31!

The grants ranged from rent and grocery assistance for adults supported by LifeScape, to a high-tech speech-generating eye-gaze system to help children communicate their wants and needs. A pressure mapping system for wheelchair fitting was granted, plus support for a 2022 Center for the Arts production. Furniture, games, and craft items will grace the lives of people in adult services, and therapy equipment will help kids in Rapid City, Sioux City, and Sioux Falls to be more independent.
For a while last year, the Ambassadors wondered if they'd have any funds to grant. They knew the needs continued—and in some cases increased—but their usual in-person fundraisers could not be held. One Autumn Night 2020, the fall social gathering, had to be cancelled. MallWalk 2021, which raises the bulk of the Wish List funds the Ambassadors gift to LifeScape, couldn't be held as usual in the Empire Mall in Sioux Falls. Ambassador and MallWalk chair, Kathy Hammond and her team rolled up their sleeves and got to work hosting a virtual MallWalk on February 6th, livestreaming on Facebook and the web. "Thanks to the many people who care about the kids and adults supported at LifeScape, we were far more successful than we dreamed we'd be," says Kathy. "Like everyone, we were out there doing our best to make it work." The event raised an amazing $85,604.57.
Throughout the year, staff note areas where funding of equipment, services, and other items would help provide a better quality of life for kids and adults supported through LifeScape. Due to the COVID outbreak, some of the items funded last year could not be used, so that money went back into the total for this year's giveaway. The group met to consider all of the requests and were able to fund most of them – a very good day indeed! Many thanks to all who support LifeScape and the Ambassadors' fundraising efforts to put a little light and sparkle into the lives of those we support. The check for $107,858.31 was presented to LifeScape Chief Financial Officer Steve Wilson at their May meeting.

The LifeScape Ambassadors meet monthly for lunch and learning. Contact Ambassadors@LifeScapeSD.org to learn more about getting involved in this great organization!