Creatively compassionate: Staff member uses sewing talent to help child express her personality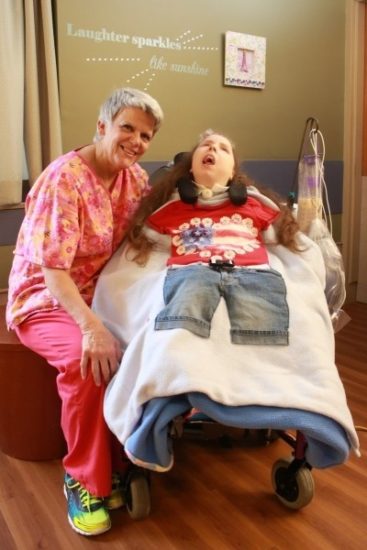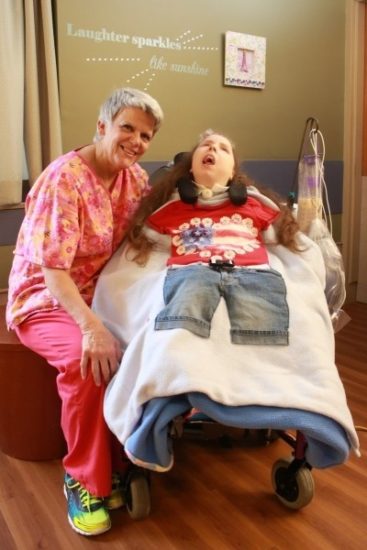 LifeScape has more stories than it can possibly tell of staff who hit it out of the park at providing compassionate care. One of those people is Jane Herrick.
Jane has worked as a Direct Support Professional on Austin Hall in Children's Residential Services for three years. She worked at LifeScape several years ago, moved out of state, and then returned to LifeScape when she came back to the area. "I've tried other work, but this is second nature to me," says Jane. "I always come back to taking care of people."
Jane's heart for caretaking comes from a deeply personal place--three of her six children required significant care before passing away. A son and a daughter died from a degenerative brain disorder, and an adopted daughter died at age six from complications after surgery to repair a cleft palate and lip. "Little did I know when I got my certification as a Licensed Practical Nurse that I would be providing nursing care to my own children." says Jane.
Despite these sorrows, Jane is upbeat and energetic in her approach to all she does, including a lifelong passion for sewing. At LifeScape, she quickly became known for her skill in mending the children's clothing and modifying sheets and other bedding. She saw a need for mealtime clothing protectors for the children on Austin Hall, so she made 25 of them, each machine-embroidered with "AH."
Her creativity really went to work when she began caring for 15-year-old Cheyenne Krieger at LifeScape. Cheyenne, the eldest of the three children of Cody and Jenny Krieger of Pierre, was born premature, causing an intellectual disability, developmental delays, and visual impairment. She was very independent until the age of three, when a shunt in her brain malfunctioned, requiring a trach to be placed to assist with breathing, and changing the way she communicates. She also cannot regulate her body temperature, so she must always wear fleece blankets and hats. Jane thought it was a shame that Cheyenne's cute clothes were always covered up, so came up with the idea of appliqueing clothing to the tops of her blankets, and making matching ribbons for her hair. The idea further evolved when she devised a plan to make the shirts interchangeable. For the Fourth of July, she even created themed socks with cuffs to fold over the tops of the braces on her lower legs.
Cheyenne's parents are touched that someone would go so far out of their way for their daughter. "It means a lot that someone else is thinking of Cheyenne, and new ways to express her personality," says Jenny. "I love the creativity of it—I never would have thought of it. It means a lot that someone is showing that love for her."
For Jane, the project has been a fun way to improve the quality of life for a child she has come to care for very much—a child that reminds her of the sweetness and vulnerability of her own children. "She always goes above and beyond," says Dusty Bourassa, Children's Residential Services Manager. "She has so much passion and dedication in caring for the kids." That dedication has earned her a recent promotion to a Direct Support Professional Lead position, meaning she will mentor other staff in providing care.
All LifeScape employees are bound to the organization's values—Integrity, Compassion, Fiscal Responsibility, Collaborative Relationships, and Excellence. Every job description requires adherence to these values. Jane is just one example of the creative, hard-working, and compassionate LifeScape staff, who--every day--go about the life-changing business of empowering people to lead fulfilling lives.