Community Partner: Lloyd Companies gets the job done!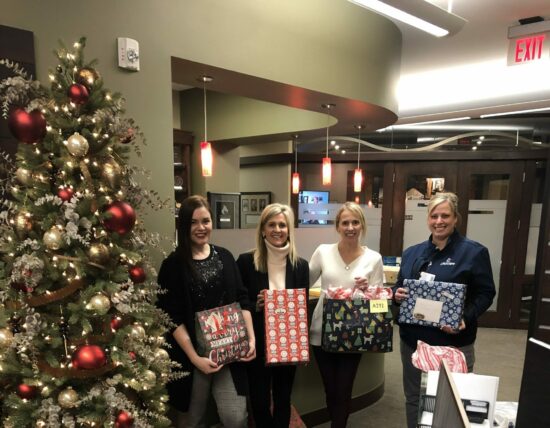 Lloyd Companies has supported LifeScape in various ways for nearly two decades, including with holiday "Angel Trees" for LifeScape as shown in this photo. Through their affordable housing division, they are continuing their partnership with LifeScape to build a series of customized duplexes for adults with disabilities. The first, the Continuum Home, was a first-of-its-kind dwelling for young adults transitioning from children's services to more independent living as adults. It opened in early 2020.
Since then, Lloyd Companies and LifeScape have built a similar 5,378 square foot twin home for adults in north Sioux Falls. It's called Linden Home, and opened in March 2021. The partnership is part of LifeScape's initiative to build five new ADA-compliant homes in five years. The third, Magnolia Home begins construction in west Sioux Falls later this spring. Each home is designed for eight residents.
Finding residential lots to build on in Sioux Falls is challenging, but especially so for our twin home project, as they take twice the space of a single-family home. Lloyd Companies has helped LifeScape scout properties that accommodate the footprint and are affordable. The goal is to have the homes blend into their neighborhoods. The residents and their families are thrilled with the homes, which provide plenty of privacy, but good common areas for camaraderie and socializing.
"We feel blessed to be working with such an amazing organization," says Chris Thorkelson, Lloyd Companies President and CEO. "We are truly grateful for what Lifescape does in our community and throughout the region."
Lloyd Companies was founded in 1972 by Craig and Pat Lloyd. The Sioux Falls-based company now includes development, real estate, construction, property management and hospitality services, with locations also in Rapid City and Des Moines. As they celebrate their 50th anniversary this year, we thank them for the excellent partnership that is helping provide dream homes for adults supported by LifeScape!