Community Partner: Hy-Vee values hiring employees with disabilities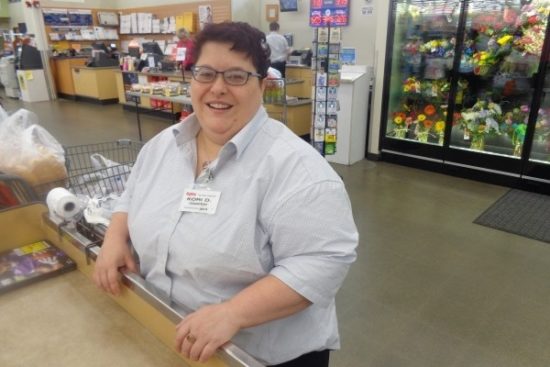 Hy-Vee has been a longtime supporter of employing people with disabilities at its grocery stores. Hy-Vee stores in Sioux Falls currently have four employees hired and trained through LifeScape's Supported Employment program. It has also employed many others in the past.
LifeScape prepares people well for the job, says Nic Hoch, assistant director of store operations at the Hy-Vee on South Minnesota in Sioux Falls. "The value of the Employment Specialists is huge," he says. "The one-on-one training they provide for our staff on the front end is incredibly valuable."
Brian Peterson, who works in the Hy-Vee Market Grille restaurant at the South Minnesota store, says he enjoys his co-workers and loves being part of a team. His responsibilities include wiping down tables, collecting dishes and refilling the ice dispenser. Nic says he knows Brian well. "He's very friendly -- always waving at people. He truly embodies Hy-Vee's slogan, 'A helpful smile in every aisle'."
"Hy-Vee serves the whole community, and we believe that a diverse team enables us to make all customers' lives easier, healthier, and happier," Nic says. "Brian and other LifeScape employees are a huge part of our team."
We thank Hy-Vee for seeing people with disabilities as just people and making them a part of an integral part of our community.
Hy-Vee is an employee-owned chain of more than 245 supermarkets located throughout the Midwest in Iowa, Illinois, Kansas, Minnesota, Missouri, Nebraska, South Dakota, and Wisconsin.
LifeScape currently supports over 90 people working in the community through Supported Employment services. For more information on this program call Patrick Derrick at (605) 444-9974.