Center for the Arts is life-changing for Sioux Falls woman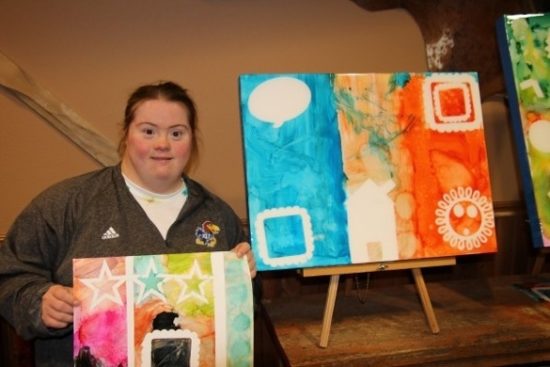 Since she was a little girl, Hailey Bork has dreamed of being an artist. "People would ask her what she wanted to be, and she has always said 'an artist,'" says her mom, Allyson. Thanks to the LifeScape Center for the Arts, Hailey is realizing that dream.
Since 2009, the LifeScape Center for the Arts has provided creative arts opportunities for children and adults, modified to the needs of each artist. Artistic Director Jamie Richardson has found great synergy in having artists of all abilities work together. "There's a common language in art," says Jamie. "These experiences change perceptions and break down barriers." Jamie says 585 individuals participated in Center for the Arts programming just last year.
"The Center for the Arts has been life-changing for Hailey, so in turn—life-changing for us," says Allyson. "I'll never forget when Jamie was manning a booth at the LifeScape Pancake Benefit a couple of years ago. She was signing people up for the Wizard of Oz play. I asked her, "Would Hailey be able to try out for this play?" I was a bit skeptical. She said, 'Of Course!' I was absolutely thrilled that there was something like that for Hailey. She signed up and proceeded to talk to her friends about it for weeks, just anticipating the tryouts and excitement of being part of something so fun."
Hailey was one of 15 adults who attended the Center for the Arts' Camp Create in August. Participants were able to work alongside professional artists and learn from them and befriend them. Jamie says Hailey loved every minute of it. "While some people were ready to go home towards the end," says Jamie, "Hailey kept telling me we should 'stay longer, we should stay for a week, and we should come back each week!'"
Allyson says Camp Create was the most wonderful thing that could have happened for Hailey. "It was truly a dream come true for her. She can't wait to attend the next one. Her dad and I went up to the camp to see the art exhibit and have a tour of Joy Ranch, given by Hailey. These opportunities have been provided in fun, safe environments. Hailey might be able to do these kinds of things in the regular community, but the safe environment is what makes these opportunities really possible for her. It's given her confidence. It means independence and inclusion for her. I can't express my gratitude enough to LifeScape and the Center for the Arts, for supporting these life-changing events for Hailey."