Baby Gabe is going home! How rehab nursing helped get him there.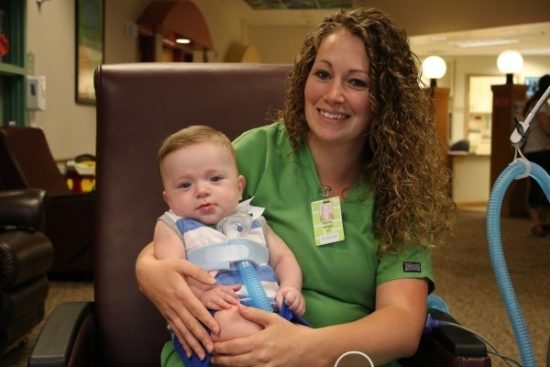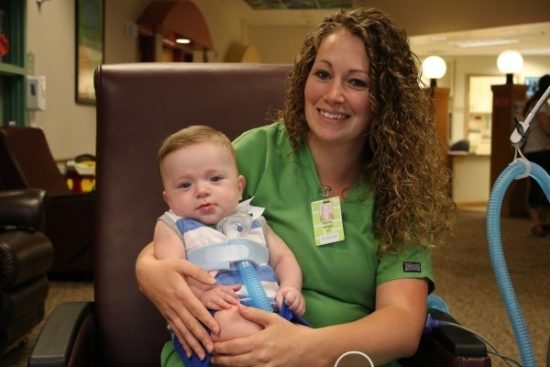 When you think about inpatient rehabilitation, nursing may not be the first thing that pops into your mind.
"Nursing is a huge part of rehab," says Christy Lee, RN, who works on the inpatient rehabilitation and medically complex unit of the LifeScape Specialty Hospital.
"It's a critical part of the process for the RN to assess and monitor our rehab patients. We have to look for cues that a medication or treatment isn't being tolerated by the patient, or may not be helping them progress with the plan of care outlined by the doctor and therapists. Ultimately, we have the same goal as the rest of the team – getting these kids back home with their families."
Christy (pictured here with Baby Gabe) also firmly believes that families are a key part of the rehabilitation process. "Families want nothing more than to have their child back home with them. It's amazing to see how support and involvement from families during the rehab process helps a child thrive. Gabe's family does not live here. His mom travels a great distance every weekend to see him and does all she can to be present for doctor visits and tests. His dad and grandparents are with him often as well, even though they work full time. Seeing Gabe's mom give him his first bath without having to work around his ventilator was so fun to see!"

"Gabe is doing amazing because of the support of his family and the love and care he's receiving from his team at LifeScape. He'll be heading home soon! I couldn't be happier for him!"