Arianna: Beating the odds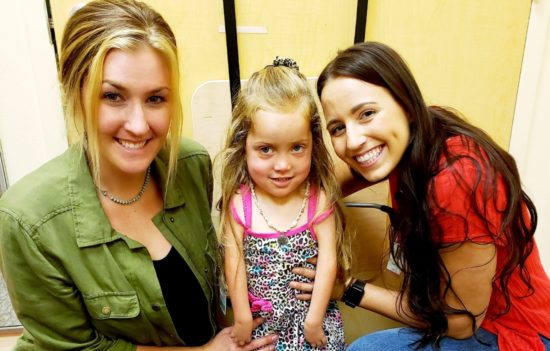 Jamie Miller had a scan when she was at 18 weeks into her pregnancy with Arianna. The ultrasound tech and her OBGYN noticed that her fingers and toes weren't moving and that her ankles were turned inward, though blood tests showed no abnormalities. At 31 weeks, Jamie went into sudden preterm labor and delivered Arianna within 20 minutes of arriving at the hospital.
Arianna's left lung collapsed, and she was put on a ventilator. She suffered level-four brain bleeds on both ventricles of her brain due to the early birth and lack of oxygen. Her family was told she would have a very short life expectancy and most likely would never go home from the NICU. Heartbroken, they prepared to lose her within days of her birth.
Arianna had a different plan. After spending two-and-a-half months in the NICU, she was released on continuous oxygen. While still in utero, she had been diagnosed with clubfoot. At the time of her release, she was diagnosed with a rare condition called Arthrogryposis, which contracts the joints in a body, fixing them in one position. For Arianna it affects her ankles, elbows, wrists and fingers. After genetic testing, she was found to have Amyoplasia, which is a non-genetic form of Arthrogryposis.
About a year ago, Arianna was diagnosed with spastic cerebral palsy. She has had her legs casted 18 times and has had two different surgeries on each of her legs. Additionally, she has chronic lung disease, getting pneumonia every winter since her birth. Her family celebrated being released from continuous oxygen during the day around the time of her fourth birthday earlier this year.
Arianna is very determined and does as much as she can by herself, though there are things she can't do independently. While she can't walk independently, she has recently started walking small distances on her own. She primarily uses a wheelchair for transportation, but mostly scoots on her bottom to get where she wants to go. She is starting to talk more, and though it's not always clear as to what she's saying, she's pretty vocal and will make her needs known.
The family was first introduced to LifeScape for castings and AFOs, but then began therapy when Arianna was three. Jamie feels her daughter has progressed quite a bit due to the physical therapy she receives there. She's started knee walking, crawling, standing, and taking steps, all within the last year since beginning therapy. Additionally, she receives occupational and speech therapy for feeding, making progress in that area and gaining some weight. Her mom says, "Arianna is quite a handful when she wants to be, and all of the LifeScape team has always been amazing and calm with her. Arianna loves playing at therapy and is excited when she sees us drive up to the building."
A typical four-year-old, Arianna likes slides, puzzles, coloring, reading, playing in water, playing with animals and baby dolls, pretending to be a puppy, and playing with her two sisters and brother. Jamie adds, "My biggest hope for Arianna is that she is happy. She has always been a happy, smiling, laughing kid, even as a baby. She thinks everything is funny, and I love that about her so much. But I also dream that she will be able to walk herself up to a door and say, 'trick or treat,' or climb up a ladder and slide down the slide herself. I want her to have fun and to know that if she needs help, she has it, but also be confident in her abilities to do things herself. She has had her fair share of setbacks, and I'm sure she will have more. But I hope she stays determined her whole life and sees challenges rather than roadblocks when she struggles with things."