Ambassadors, with help of Linwood Wesleyan Youth, ensure Halloween fun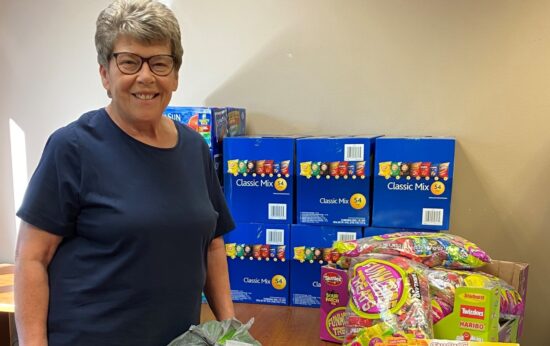 Halloween is kind of a big deal around here! While children have Trick or Treating and a party each year through the school, the LifeScape Ambassadors make sure folks supported in Adult Services have some spooky fun, too.
Normally the Ambassadors host a Halloween dance for adults, but COVID-19 restrictions prevented the dance in 2020 and will again this year. So, with the help of youth volunteers, the Ambassadors have 387 treat bags ready for delivery—with five different categories of treats.
Ambassador Pat Erpenbach purchased the items for the bags, and youth from Linwood Wesleyan decorated the bags, organized the treats, and bundled the bags specifically for each LifeScape residential home. There were regular treat bags with chips, juice box, and candy; gluten-free/dairy-free bags; bags for those with dysphagia (needing soft foods); bags for people with diabetes; and bags with non-food items.
The seven youth and three adult leaders decorated and assembled the 387 treat bags! A group of Ambassadors will deliver them on October 26th.
Thanks Ambassadors and Linwood Wesleyan Youth for helping friends at LifeScape have a happy Halloween!
To get involved with the LifeScape Ambassadors, email Ambassadors@LifeScapeSD.org
Linwood Wesleyan Youth organized and bagged the treats.