Ambassadors grant over $122,000 in wishes to LifeScape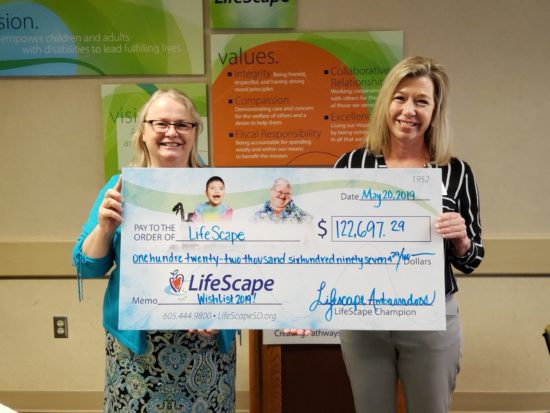 Two expensive speech-generating devices will give children a voice, a new lift will help in transferring people with high medical needs, and food and rent assistance will provide a safety net for low-income adults with disabilities. These are just some of the 60 wishes—both large and small--granted this year by the LifeScape Ambassadors. At their May meeting, they presented a check for $122,687.29 to LifeScape Chief Operating Office Dr. Kimberly Marso.
The funds are mainly raised through One Autumn Night and Mall Walk. The requests are made by staff at our Sioux Falls, Sioux City, and Rapid City locations throughout the year. After careful review by management and the Ambassadors, the group decides which wishes they can grant. "We'd like to grant them all," says Ambassadors Wish List Chair Paulette Fischer. "We do our best, and are able to grant most of the wishes that provide the extras to really make a difference for people supported across the organization."
We are so grateful to the Ambassadors for their incredible help. Over the past 18 years, they've raised and contributed over $1.4 million! You can get involved with these life-changing efforts! First, plan to attend One Autumn Night at the Museum of Visual Materials in Sioux Falls on September 20, and Mall Walk at the Empire Mall on February 1, 2020!
Second, join Ambassadors! Regular meetings are held the third Monday of the month, 11:45 a.m. – 1:00 p.m. at LifeScape's 2501 W. 26th Street location. Details at ambassadors@LifeScapeSD.org or call (605) 444-9800.
Officers for 2019-2020 are: Vonny Revell, President; Deanna Kruger, President-Elect; Julie Gehm, Past-President; Cindy Hair & Andra Kallhoff, Co-Treasurers; and Jamie Richardson, Secretary.
Thank you, Ambassadors!