Alexis Joppa raises $989 for LifeScape Adult Day Services!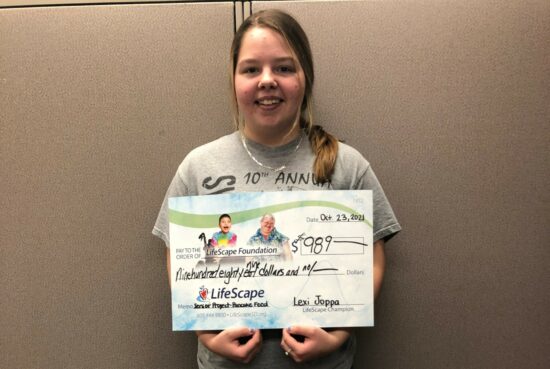 The giving season started early for one young benefactor of LifeScape – Alexis Joppa! Alexis Joppa used her Colman-Egan High School senior project to organize, fundraise, and facilitate a pancake benefit! She put 16 volunteer hours into the project, recruited eight additional volunteer helpers, and got donations from Sioux Valley Energy and T&R Supply. In all, the pancake benefit raised $989 for LifeScape's Adult Day Services program!
Alexis' donations will provide adults supported by LifeScape the opportunity for increased community involvement, more craft and baking experiences, and much more.
These experiences are more than just a moment of learning—it's the conversations afterwards with others about what they've learned, it's the pride in accomplishment, it's a special gift made and given to a loved one, it's the ripple effect of goodness.
Thank you Alexis, Lori, and volunteer helpers for your leadership during your pancake benefit. Thank you for empowering people to live their best life through your donations.
If you have a senior project and want to make a difference in the lives of many, please email Volunteer Coordinator Becky Sluiter at Rebecca.sluiter@LifeScapeSD.org to discuss opportunities.
Photos below: Alexis holds a ceremonial check (at center) with her friend and volunteer Ashley Snoozy (left) and her mom, Lori (right).
She presents her donation to LifeScape Foundation staff member Valerie Lietz.