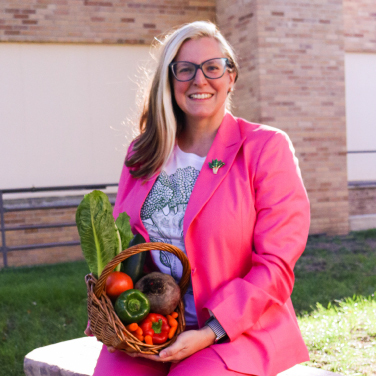 Director of Food & Nutrition Services, MS, RDN, LN

5+ yr Registered Dietitian, Elizabeth has worked in a variety of nutrition settings, ranging from community to health care and food service management.
Elizabeth's first job as an RDN was with Hy-Vee, where she provided both basic nutrition knowledge and clinical MNT education to customers, helped customers shop, hosted sampling events & cooking classes and helped out in the health market and pharmacy. She also presented at various community health fairs, lunch n learns for the many manufactories in Yankton and did weekly nutrition hour with the children at the BGCA in Yankton.
Most recently Elizabeth worked at the SD State Hospital (SDHSC). After a year and a half of working as the clinical dietitian supporting the patients of HSC, Elizabeth was promoted to the Director of Dining Services for the SDHSC campus, overseeing meals and nutrition services for both ~200 patients at HSC and the ~350 trustees at the Yankton Community Work Center.
Elizabeth started her career with LifeScape in April of 2021. Her primary focus in 2021 was the children's campus. Elizabeth started "officially" overseeing the adult services NFS team in January. Elizabeth can often be spotted sporting a fun "vegetable" screen print tee and is a huge lemon & pineapple enthusiast.