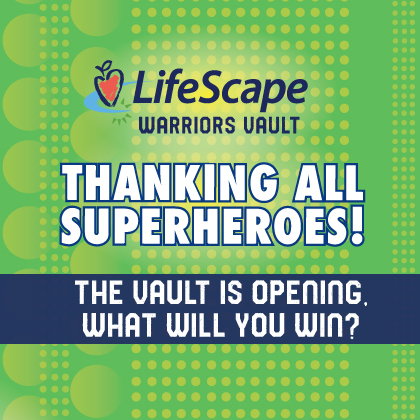 To thank you all for that you have and will continue doing to help during this workforce crisis, we have created the LifeScape Warriors Vault!
Now through the end of January, earn entries for a chance to win during our bi-weekly drawings. Plus, earn triple the entries when you work during a holiday pay period that will be included in our MEGA Vault drawings.
It all concludes on Friday, February 11th when we hold our Grand Prize drawings featuring the biggest prizes the LifeScape Warrior's Vault has to offer!
So, how do you earn entries?
Employees must work at least 8 hours over their core hours to qualify.
Each hour equals 1 entry into that pay period's drawing.
After the drawing, the entries start over.
During holiday pay-periods, after you reach that qualifying 8, each entry multiplies by 3 into that pay period's MEGA drawing.
All entries earned from 10/10/20 - 1/29/21 will be included in the Grand Prize drawing held on February 11th.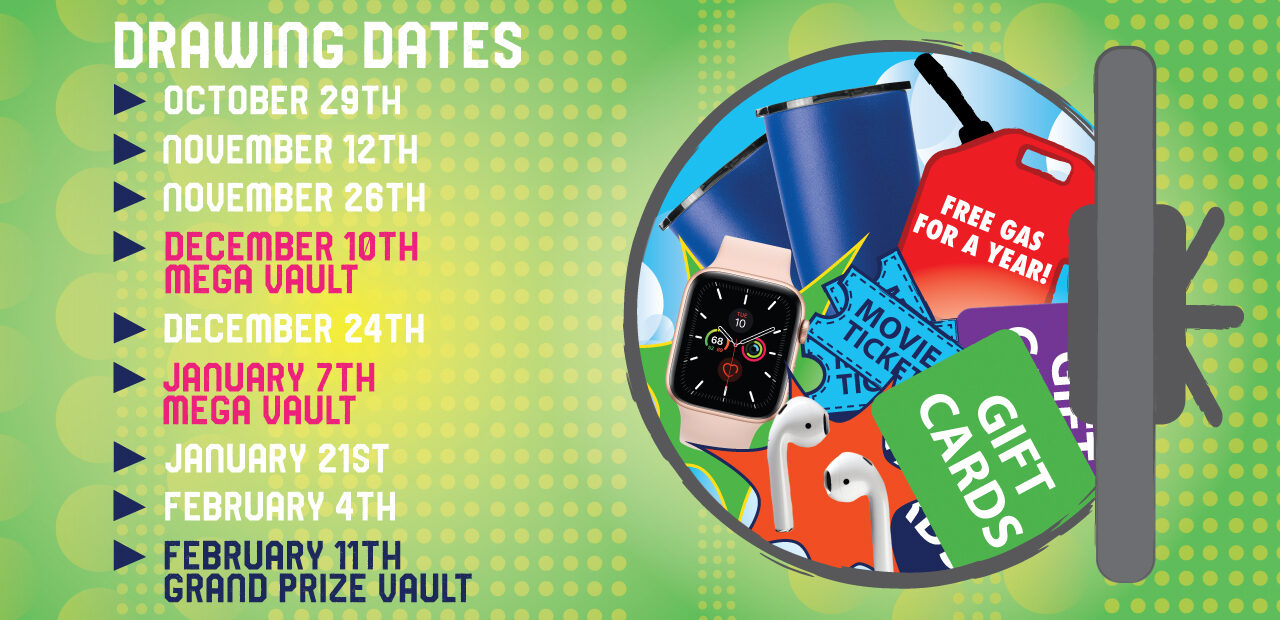 The Prizes
Prizes within the vault include, but are not limited to:
Gift Cards from Hy-Vee, Scheel's, Amazon, Karl's, Chick-fil-A, Dairy Queen, Taco John's, etc.
Gas for a Year
Oculus
Bluetooth Speakers
Apple Air Pods
Apple Watch
Apparel
*Prizes are subject to change.
Frequently Asked Questions
Will the prizes I win be taxed?

In accordance with IRS regulations the value of gift cards and the gifts included in this drawing are to be considered taxable income. Tax withholdings for the value of the gift/gift card will appear in the employee's next paycheck following the aware of the prize.

How will you get my hours?

Everyone's hours will be pulled from the completed payroll reports for the weeks of the drawings.

How do I know what pay period is for each drawing?
Can I win more than once per drawing?

No, but you can win one time in every drawing.

Will my entries from each week stay in the pot for the drawings?

Entries will only qualify for the drawing held after each pay period. See calendar.

How will I get my prizes?

Prizes will be delivered to you personally by a Marketing Team member and YES, we will want to take your picture.
Have a question we didn't answer? Just submit it to Leah Orsack and she will reach back out or find someone with the answer.
The Winners & Drawings
October 29th Winners!
Amazon $25 Gift Card Winners

Kira Larsen, DSP
Charlene Connelly, RN
Winifred Chea Coelue, DSP
Korpo Gbelewala, DSP
Barbara Zirpel, Front Desk

Hy-Vee $25 Gift Card Winners

Catherine Nimely, DSP
Ajaji Ule, DSP
Beyan Garvelee, DSP
Beferson Claude, DSP
Siah Quaye, DSP

Yeti Tumbler Winners

Shawn Utech, Nursing Assistant
Dyana Bethin, DSP
Cassandra Counterman, DSP
Donnita Johnson, Lead DSP
Herbert Duarto, DSP

Yeti Rambler Winners

Elijah Yuek, DSP
Elizabeth Deah, DSP
Tyana Wilson, DSP
Gbango Quiah, DSP
Lillian Mentele, DSP

Scheel's $50 Gift Card Winners

Shelby Noteboom, DSP
Sylvia Stalker, Insurance Specialist
Meadow Smith, DSP
Heather Serck, RN
Jeanne Walth, DSP

Amazon $50 Gift Card Winners

Heather MacDonald, RN
Christopher Talcott, DSP
Stacie Oestreich, DSP
Raymond Wornor, DSP
Rachel Kiecksee, DSP

Visa $50 Gift Card Winners

Diana Schuller, Lead DSP
Mohammed Kamara, DSP
Emerald Rademacher, RN
Erin Kaiser, Lead TA
Armah Winford, DSP

Hy-Vee $50 Gift Card Winners

Susan Dykshorn, DSP Food Services
Peter Beyan, DSP
Mai Nimely, DSP
Sara Guracha, DSP
Rebecca Wangberg, DSP

JBL Flip 4 Waterproof Portable Blutooth Speaker Winners

Tomah Taylor, DSP
Jacob Koch, DSP

Scheel's $100 Gift Card Winner
Amazon $100 Gift Card Winners

Sandra Strong, Nursing Assistant
Blyon Morgan, DSP

Visa $100 Gift Card Winner
Hy-Vee $100 Gift Card Winners

Roland Volawuo, DSP
MacArthur Nimely, DSP

Apple Air Pods w/ Charging Case Winner
Hy-Vee $250 Gift Card Winner
Click here to see part 1 of the drawings and click here to see part 2.

Video of drawings are for transparency purposes only.