Hamsters USA Raises $161,833 for Kids at LifeScape in Rapid City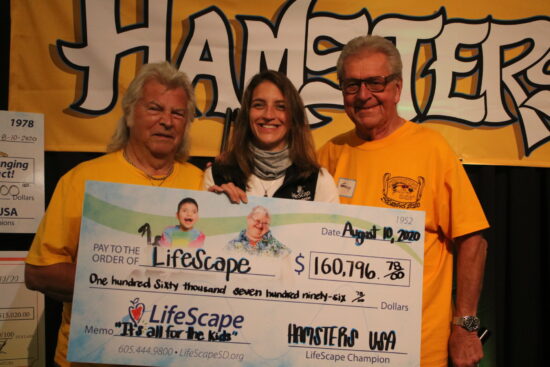 Hamsters USA, the international motorcycle group with big hearts, rolled into western South Dakota to make an impact for kids with disabilities… AGAIN! These great guys came together throughout the year to raise funds for LifeScape of Rapid City culminating near $161,833, all staying local to support children with disabilities in Western SD!
Hamsters USA has raised and donated funds at their annual meeting for the last 15 years, with a deep desire to give back to the greater Black Hills community, which many Hamsters consider their second home. This year's event brings their cumulative total for 15 years to almost $3.5 million in total dollars raised for LifeScape in Rapid City. Their gifts help provide services to children in their Black Hills area homes and communities, delivered by LifeScape personnel who drive over 10,000 miles a month to provide services.
During a normal year, one of the children impacted by the dollars raised by the Hamsters would be in attendance at the event. Due to COVID-19, there was not a family there this year. However, T.J. Lindsay of Rapid City was highlighted in the annual program. T.J. was diagnosed with autism when he was a year old. Autism means different things for each person diagnosed. For T.J., in addition to hyper-motion in his body movements and being non-verbal, it means he is very specific about how he likes things to be. T.J. primarily receives occupational and speech therapy. After working with LifeScape over the span of just one year, T.J.'s word count has expanded significantly, and he now uses up to 20 words! The most special word was more recent when he said "Mom" for the first time. Holly shared, "Having him say 'Mom' to me in context was everything to me. It was a big moment—it was really huge! LifeScape has definitely given him the support to find his voice."
LifeScape's mission is to empower children with disabilities to lead fulfilling lives. Holly is so grateful that LifeScape is here for T.J., and she is also so grateful for donors, like the Hamsters, that come together to make sure the high-quality services provided by LifeScape are available to families like theirs. She added, "Your donations matter. Thank you!"
Jessica Wells, President of the LifeScape Foundation, added, "We are so grateful for 15 years of commitment and caring from this very special group of gentlemen. Their love of this region and the children they support shows through in the dollars they raise and the sentiments they share. These guys warm our hearts every year – our services would look very different were it not for them."