Rudolph the Red-Nosed Reindeer - The Musical!
November 16, 2023 - November 19, 2023
| All Day
Posted in General, Sioux Falls
Location: Edith Mortenson Center Theatre, Augustana University, 2001 S. Summit Ave., Sioux Falls, SD 57197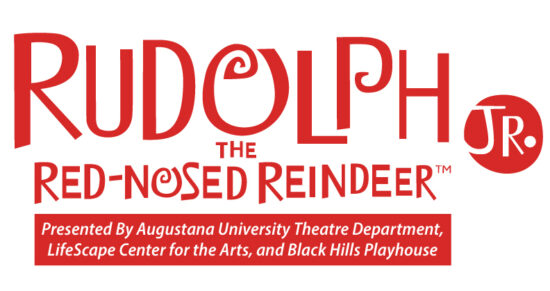 The LifeScape Center for the Arts, in conjunction with the Augustana University Theatre Department and Black Hills Playhouse, is thrilled to kick off your holiday season with the all-abilities theatre production, Rudolph the Red-Nosed Reindeer!

Rudolph saves Christmas and goes down in history in this family classic that is sure to bring joy and nostalgia! Come revisit the adventures of Rudolph, Hermey, Cornelius, and of course, Santa. We will travel to Christmastown, The Island of Misfit Toys, and may even run into an abominable snow monster along the way, but fear not, Rudolph's nose WILL save the day!
The Augustana Theatre Department is excited to partner with the LifeScape Center for the Arts and Black Hills Playhouse in their theatre students' first experience with an all-abilities production.
We are also proud to share that the Sunday afternoon matinee with be made even more accessible to our guests with our special autism and sensory-friendly performance.
Join us for this very special event and let us help you find your Holly Jolly Christmas!

There will be five performances:
Thursday, November 16, 7:30-9:30 p.m.
Friday, November 17, 7:30-9:30 p.m.
Saturday, November 18, 2:30-4:30 p.m.
Saturday, November 18, 7:30-9:30 p.m.
Sunday, November 19, 2:30-4:30 p.m. - Autism & Sensory-Friendly Performance

Our autism and sensory-friendly production is designed to welcome an inclusive audience that is accessible to everyone, including first-time theatregoers and young children. The performance is modified to allow for different sensitivities to lights and sounds. Understanding that sitting quietly through an entire show can be difficult for some, this performance will allow for audience movement and interaction. We strive to provide a welcoming experience to theatre by creating a safe and non-judgmental environment where movement and vocal reactions are anticipated.
Special arrangements can be made to occur prior to the show date for patrons who could benefit from:
A tour of the theater to see what it is like before it is filled with theater guests
Meeting some of the characters/costumes in person in a quieter setting
Reserving a seat so guests know exactly where they will be sitting
All of these arrangements can be coordinated through Jamie Richardson – my contact info
Patrons will receive a welcome bag that includes different sensory fidgets and tools for an interactive experience with the show.
Our producer will visit with the audience before the start of the show and talk through the interactive components and help them understand what to expect.
A modified script will be provided that breakdown the scenes and will allow the guests to know exactly where we are at in the show and how long until the end.
The audience will be able to interact approximately ever 3-5 minutes, through singing, waving items, stomping, and saying lines along with some of the characters.
The house lights will remain dimmed during the performance rather than being turned completely down.
The intensity of lighting and sound effects will be reduced.
A limited number of noise-cancelling headphones and foam ear plugs will be available for patrons.
A designated quiet area will be available for anyone needing to take a break from the theater. A live stream of the performance will be available in that area so patrons can continue enjoying the performance in a quieter setting.
Trained volunteers will be on hand to assist with patron needs should they arise. They can be found at the back of the theatre.
Our show is closed-captioned with a screen built into the set to help guests who would benefit from different communication methods.
For details, contact LifeScape Center for the Arts Director Jamie Richardson at jamie.richardson@LifeScapeSD.org
Click here to purchase your tickets.