Rudolph the Red-Nosed Reindeer - The Musical!
November 16, 2023 - November 19, 2023
| All Day
Posted in General, Sioux Falls
Location: Edith Mortenson Center Theatre, Augustana University, 2001 S. Summit Ave., Sioux Falls, SD 57197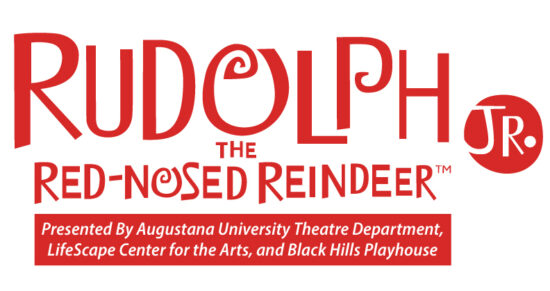 The LifeScape Center for the Arts, in conjunction with the Augustana University Theatre Department and Black Hills Playhouse, is thrilled to kick off your holiday season with the all-abilities theatre production, Rudolph the Red-Nosed Reindeer!

Rudolph saves Christmas and goes down in history in this family classic that is sure to bring joy and nostalgia! Come revisit the adventures of Rudolph, Hermey, Cornelius, and of course, Santa. We will travel to Christmastown, The Island of Misfit Toys, and may even run into an abominable snow monster along the way, but fear not, Rudolph's nose WILL save the day!
The Augustana Theatre Department is excited to partner with the LifeScape Center for the Arts and Black Hills Playhouse in their theatre students' first experience with an all-abilities production.
We are also proud to share that the Sunday afternoon matinee with be made even more accessible to our guests with our special autism and sensory-friendly performance.
Join us for this very special event and let us help you find your Holly Jolly Christmas!

There will be five performances:
Thursday, November 16, 7:30-9:30 p.m.
Friday, November 17, 7:30-9:30 p.m.
Saturday, November 18, 2:30-4:30 p.m.
Saturday, November 18, 7:30-9:30 p.m.
Sunday, November 19, 2:30-4:30 p.m. - Autism & Sensory-Friendly Performance
For details, contact LifeScape Center for the Arts Director Jamie Richardson at jamie.richardson@LifeScapeSD.org
Click here to purchase your tickets.