September 30, 2022
| 7:00 pm - 10:00 pm
Posted in General, Foundation, Sioux Falls
Location: The Country Club of Sioux Falls, 3400 W 22nd Street, Sioux Falls, SD 57105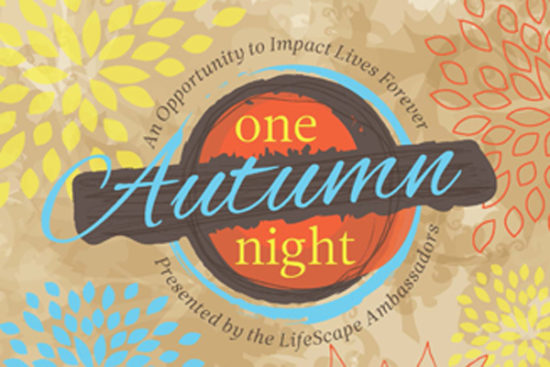 There'll be good food and drink (cash bar) by The Country Club of Sioux Falls, live music by Short Notice, and live and silent auctions! One Autumn Night will be an evening to remember with friends and family!
Admission is FREE, but please do get a ticket at the link below! All proceeds go to LifeScape Wish List grants, covering needs for children and adults with disabilities. One Autumn Night is presented by the LifeScape Ambassadors.
Click here for your free event tickets. (Beginning September 1st, you can also preview silent auction items!)
Then download the Givi App and add your credit card info so you're ready for bidding. Silent auction hours are 7:00-9:30 p.m. on September 30!
You can preview the silent and live auction items now!
Note: On the Givi App, you can only preview items once your credit card info is entered.
You can preview the items on the website without entering your credit card info, but bidding is only possible through the Givi App. There will be no paper bidding at the event.
At the event:
Doors open at 7:00 p.m., and the auction is open right away!
To bid on auction items, you will need to download the Givi app on your phone or tablet.
We have provided easy-to-use instructions to get you started.
If you are a returning participant, simply log into your Givi app and search for One Autumn Night.
Please know that to bid while in attendance at One Autumn Night on September 30th, you must have the Givi app downloaded on your mobile device for online bidding.
There will be no paper bidding at the event.
LifeScape Ambassadors will be avialble to assist with the app.


Courtney Collen will emcee, and Auctioneer Kody Miller will lead our live auction, with celebrity auctioneer Dalton Foster assisting. LifeScape CEO Steve Watkins will welcome and thank guests.

Can't join us the night of the event?
You can still join us for the online auction! Please follow the same steps to register online and get ready to bid! Items can be picked up the following week. (No shipping of items will occur.)
We are here to help! Call (605)444-9800 for questions on registering for One Autumn Night.
Thank you to our sponsors, CNA Surety and Interstate Office Products.