Children's Residential Services - ICF (Intermediate Care Facility) Nursing
LifeScape's children's residential program offers a comfortable, nurturing environment for persons supported up to 21 years of age who need 24-hour supervision for behavior and/or medical care. Three of our four halls, Holmes, Morrison, and VanDemark are tailored to more behavioral care, while Austin Hall is designed for medical and behavioral care. Currently, there is one nurse per shift on Holmes, Morrison, and VanDemark and two to three on Austin Hall.
Our nurses work closely with an array of medical and rehabilitative teams, education staff, families and/or guardians, direct care staff, and many more. Each tailored to our residents needs. We pride ourselves on our interdisciplinary and collaborative team approach to empower people to live their best life.
We are currently offering a $5,000 sign-on bonus for full time RNs or LPNs, or $2,500 for part time. What sets us apart from other medical facilities, is that when you work as a Nurse at LifeScape we offer shift differential, every third weekend, and self-scheduling.
You can apply now by clicking here or keep reading to learn about more of the specifics related to Nursing in our Children's Residential ICF program.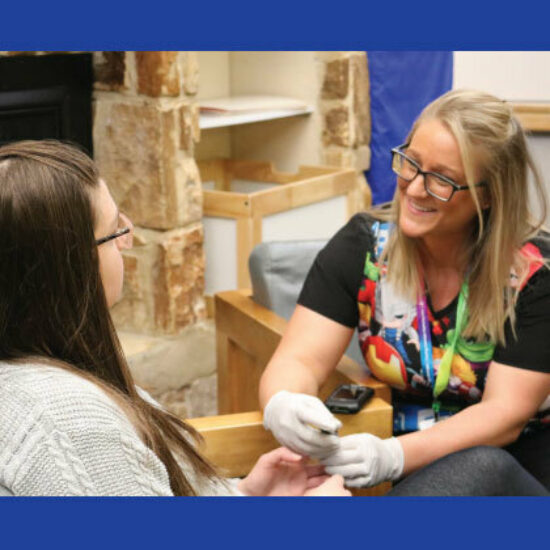 Our nursing team is currently providing and managing active treatment and health care for 20-24 children. Varying nursing tasks and skills are utilized each day, but are not limited to:
Medication administration.
Nursing assessments, procedures, and teaching plans.
Assisting and supporting staff on medical procedures and information.
Perform tasks like respiratory treatments, enteral feedings, diabetic and wound care, evaluation and assessments of gastrostomy/GJ tubes, care and changing of tracheostomy, suctioning, and other medical needs.
We use Safety-Care for behavioral safety and management.
Rotating day and night 12-hour shifts.
We have openings for RNs and LPNs in this area. Click here to apply.