Get S.E.T. (Supervisor Empowerment Training)
Mission: Get S.E.T. gives supervisors tools to excel as managers and mentors in their leadership roles at LifeScape.
The Supervisor Empowerment Training course was created in direct response to the needs of our supervisors to navigate through their "lifescape" at LifeScape. Throughout this course, we delve into the intersection of mental and emotional wellbeing, managing various socio-economic circumstances, engaging cultural norms, instilling policies and procedures set by leadership, and managing behaviors, all while fostering team development. We have experienced subject matter experts presenting at each class and, additionally, have the support of the University of Sioux Falls to offer a master's level credit to all graduating participants. Our aim is to pave the way to success, teaching these leaders the incredible influence empowerment has when we support people through people.
Schedule and application process
Get S.E.T. courses are happening right now! There are two course-length options available: the 7-week fast track (starting January 8, 2020) and our traditional 12-week track (starting again May 13, 2020). Each class meeting is packed with 3.5 hours of engaging content and the opportunity to practice with useful tools you can utilize outside of the classroom to grow and strengthen your team. Anyone who supervises a staff member at LifeScape is eligible, with the approval of their own supervisor. Class size is about 15. Enrollment is open now! Sign-up is on our internal registration system. You can get details from Training and Development: training@LifeScapeSD.org or call Jen Miller at (605) 444-9513.

"Participating in S.E.T. gave me the skills and tools to help my team be successful. It also gave me a better understanding of myself, my leadership style, and LifeScape's culture. I have been with LifeScape for 17 years and would recommend S.E.T. to every supervisor, no matter how long you've been here."

Beth Wilcox
Database Administrator, LifeScape Foundation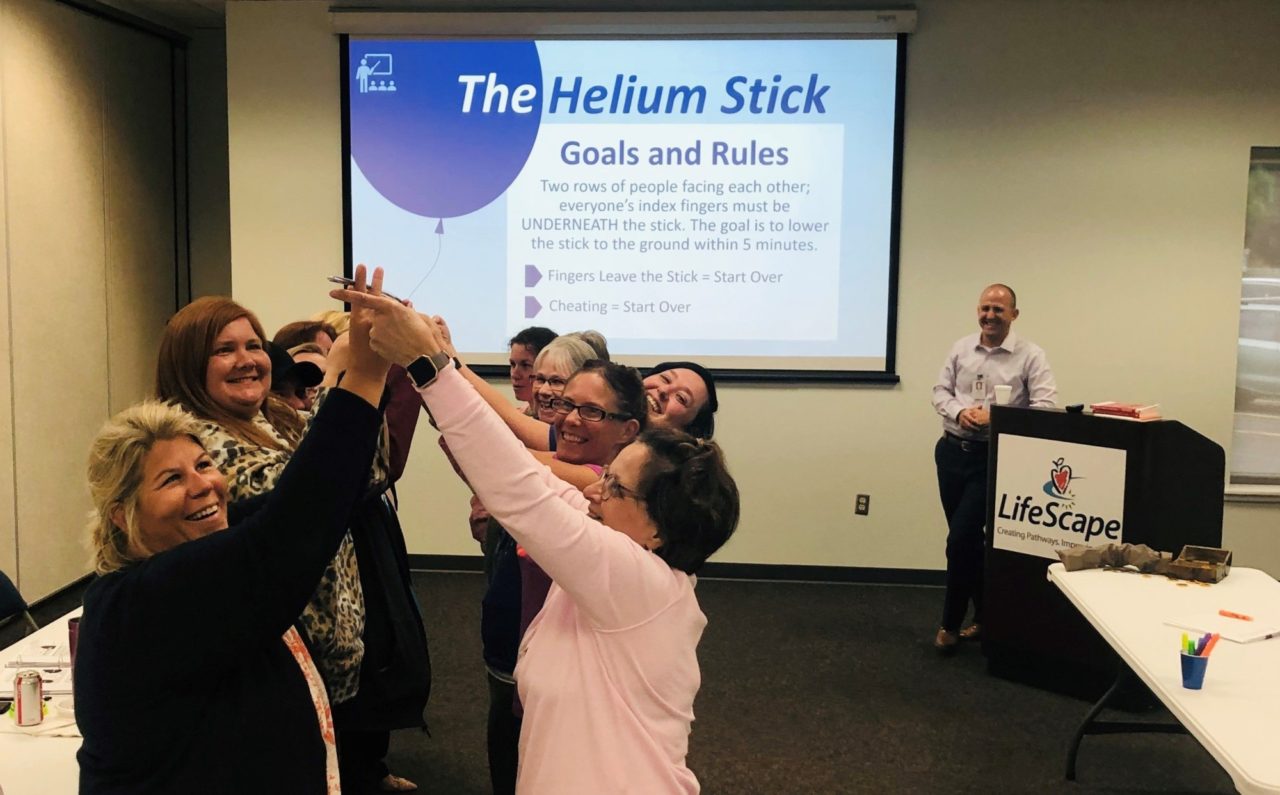 Leadership LifeScape
Mission: Leadership LifeScape discovers, develops, and inspires emerging leaders at LifeScape.
Leadership LifeScape is a premier program designed to bring together current and emerging leaders from all over LifeScape. The yearlong program, facilitated by Chief Operating Officer Dr. Kimberly Marso, covers many topics, all designed to help class members better understand LifeScape, to develop leadership skills, and to advance the mission. Since this is a fluid class, members provide input in regards to projects worked on and topics discussed throughout the year.
Brings together current and emerging leaders from all sectors of our organization.
Provides a unique opportunity for participants to build skills in leadership.
Imparts knowledge about challenges and issues facing LifeScape.
Introduces participants to senior leadership and board members.
Encourages and assists participants in creating and achieving goals.
Helps participants to grow both personally and professionally
"Leadership LifeScape helped me focus on asking hard questions… what are my goals, what is my purpose, how can I be a better person, employee, and leader? It was well worth my investment of time."

Melanie Gillespie
Food Service Manager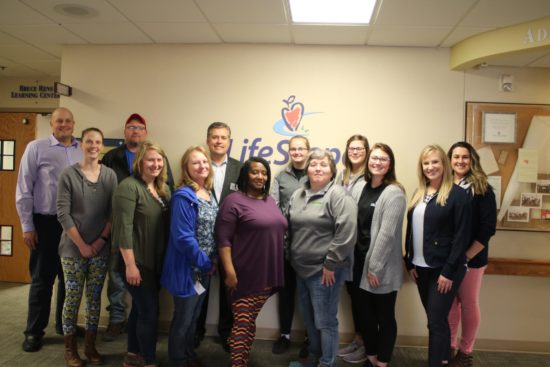 Commitment
The course begins in January and meets one afternoon each month for four hours. Participants must commit to attending each session and completing extra assignments to be done outside of work. Groups sometimes choose to work on a project throughout the year as well. Graduation is held in December.
Opportunities
This program will help participants to grow in their leadership journey—whether they are where they want to be or looking for opportunities. Participants will:
Learn about the history of LifeScape.
Receive ongoing updates on current agency issues.
Get an overview of LifeScape's financial plan and the strategic plan.
Understand yourself better through the DISC Assessment.
Form a relationship with Dr. Kimberly Marso, COO, and meet other senior leaders.
Gain an understanding of what leadership is and what makes a good leader.
Application process
Applications typically open in October, with interviews and acceptance notices completed in November. Supervisors must approve participation prior to application. For details, contact Training & Development at training@LifeScapeSD.org or call (605) 444-9561.



"Leadership LifeScape is an amazing opportunity, I learned so much about myself and the organization. It is a completely unique setting in that the material is tailored to the participants in each Leadership LifeScape group. I really enjoyed getting to know co-workers from all areas and forming relationships I may not have been able to without this experience."
-Ashley Mason, Coordinator of Support Services
2018 Leadership LifeScape Class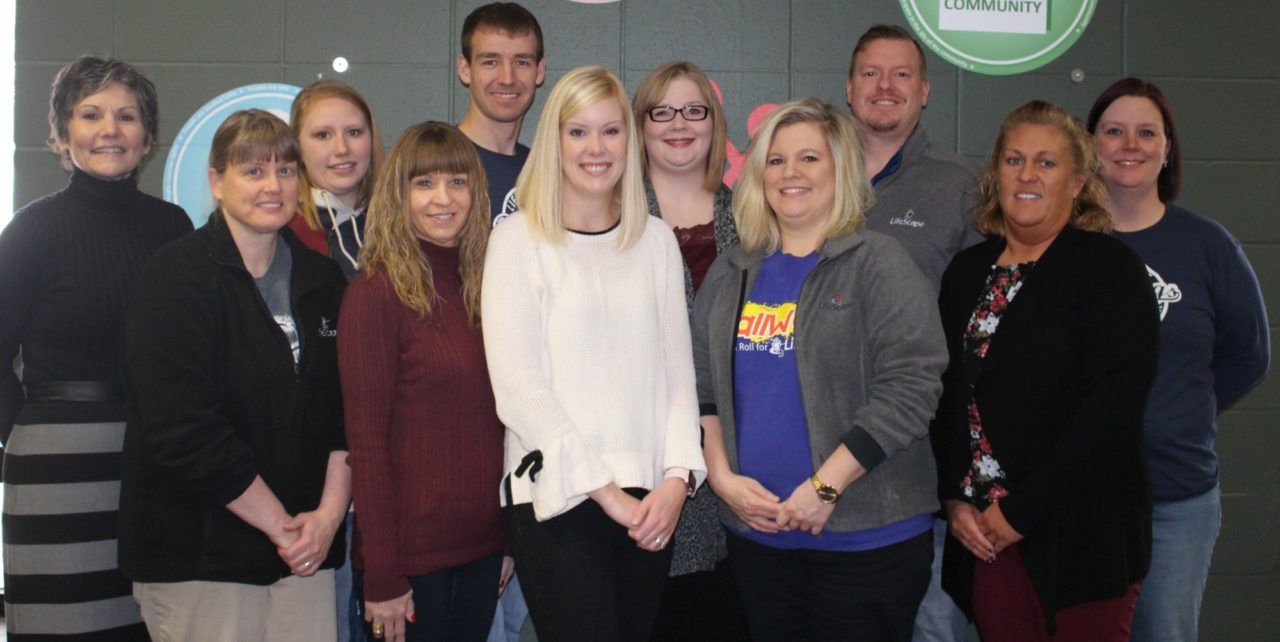 Melanie Gillespie - Food Service Manager
Kayla Nelson - Coordinator of Support Services
Jodi Loe - Staff Accountant
Josh Olson - Case Manager
Heather Hewitt - Therapy Lead
Crystal Kelley - Program Coordinator
Darcie Knight - Education Behavioral Coordinator/School Psychologist
Jeremy Schaefer - Activities Associate
Ramie Carder - Support Professional Lead
Erin Stabnow - Curriculum Assessment Director