Mission: Leadership LifeScape discovers, develops, and inspires emerging leaders at LifeScape.
Leadership LifeScape is a premier program designed to bring together current and emerging leaders from all over LifeScape. The yearlong program, facilitated by Steve Watkins, CEO, covers many topics, all designed to help class members better understand LifeScape, to develop leadership skills, and to advance the mission. Since this is a fluid class, members provide input in regards to projects worked on and topics discussed throughout the year. Graduates of Leadership LifeScape continue their journey by meeting quarterly with the CEO and other alumni members to discuss challenges facing LifeScape, provide input for solutions, and pilot new programs.
Leadership LifeScape
Brings together current and emerging leaders from all sectors of our organization.
Provides a unique opportunity for participants to build skills in leadership.
Imparts knowledge about challenges and issues facing LifeScape.
Introduces participants to Senior Leadership and Board Members.
Encourages and assists participants in creating and achieving goals.
Helps participants to grow both personally and professionally
"Leadership LifeScape offered me an opportunity to develop and implement meaningful goals to help me become a better supervisor and person in general."

Dan Luke
Director of Information Technology




Commitment
Participants will commit their time within and outside of work for this year-long program. The time commitment entails a minimum of four hours per month for the meetings, as well as extra assignments to be done outside of work. Depending on if the group chooses to work on a project throughout the year, other time commitments may be needed as well.
Opportunities
This program will help participants to grow in their leadership journey—whether they are where they want to be or looking for opportunities. Participants will:
Learn about the history of LifeScape.
Receive ongoing updates on current agency issues.
Get an overview of LifeScape's Financial Plan and the Strategic Plan.
Understand yourself better through the DISC Assessment.
Form a relationship with Anne McFarland, CEO and meet other Senior Leaders.
Gain an understanding of what leadership is and what makes a good leader.
"Leadership LifeScape is an amazing opportunity, I learned so much about myself and the organization. It is a completely unique setting in that the material is tailored to the participants in each Leadership LifeScape group. I really enjoyed getting to know co-workers from all areas and forming relationships I may not have been able to without this experience."
-Ashley Mason, Coordinator of Support Services
2018 Leadership LifeScape Class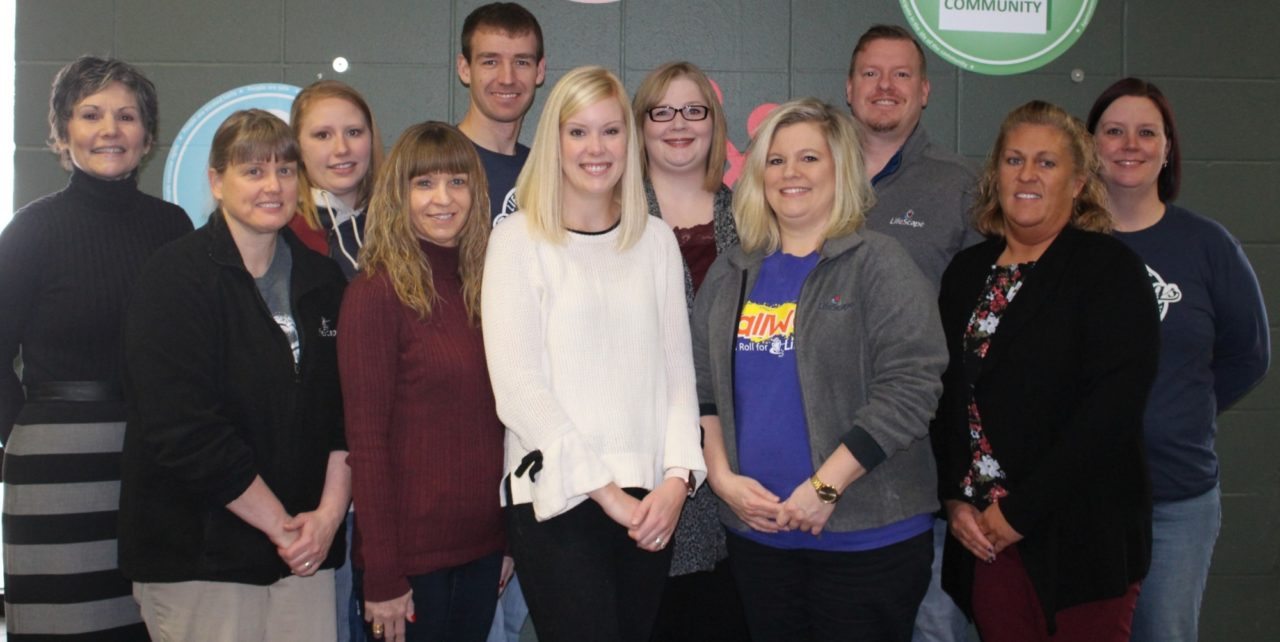 Melanie Gillespie - Food Service Manager
Kayla Nelson - Coordinator of Support Services
Jodi Loe - Staff Accountant
Josh Olson - Case Manager
Heather Hewitt - Therapy Lead
Crystal Kelley - Program Coordinator
Darcie Knight - Education Behavioral Coordinator/School Psychologist
Jeremy Schaefer - Activities Associate
Ramie Carder - Support Professional Lead
Erin Stabnow - Curriculum Assessment Director